Public Device -Symbolism and Permanence of Sculpture
DatesDec 11 (Fri), 2020 - Dec 25 (Fri), 2020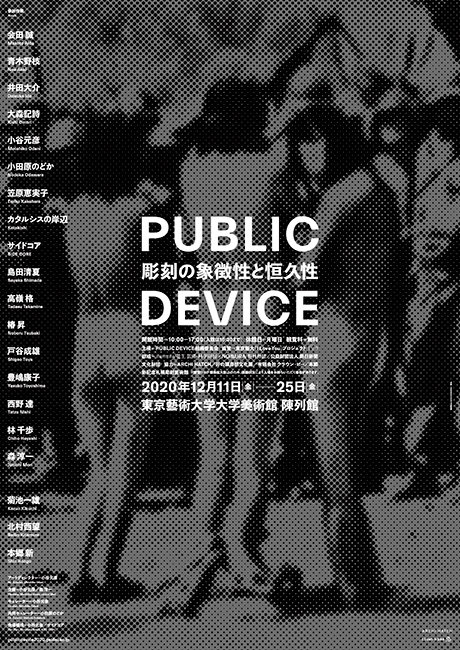 Dates:
Dec 11 (Fri) - Dec 25 (Fri), 2020
Closed:
Mondays
Hours:
10:00 - 17:00 (Entry by 16:30)
* When crowded, admission to the exhibitions may be limited, and visitors may be asked to wait for a while before entering as countermeasures against covid-19 contagion.
Place:
Chinretsukan Gallery 1F, 2F (The University Art Museum, Tokyo University of the Arts) / Painting Bld.
Admission:
free
Organized by Public Device Organizing Committee
Supported by TOKYO UNIVERSITY OF THE ARTS; I LOVE YOU PROJECT; The Kao Foundation for Arts and Science; NOMURA FOUNDATION; The Asahi Shimbun Foundation
In corporation with ARCHI HATCH; Inokashira Park Zoo; clown☆bee LLC.; Hongo Shin Memorial Museum of Sculpture, Sapporo; ALTECH CO., LTD.; Stratasys Ltd.
Inquiry:
NTT Hello Dial: 03-5777-8600
We would appreciate your understanding that the museum might be closed, or opening hours changed without prior notice depending on weather conditions, disasters, etc. Please call hello dial: 050-5541-8600