DatesNov 14 (Sun), 2021 - Nov 27 (Sat), 2021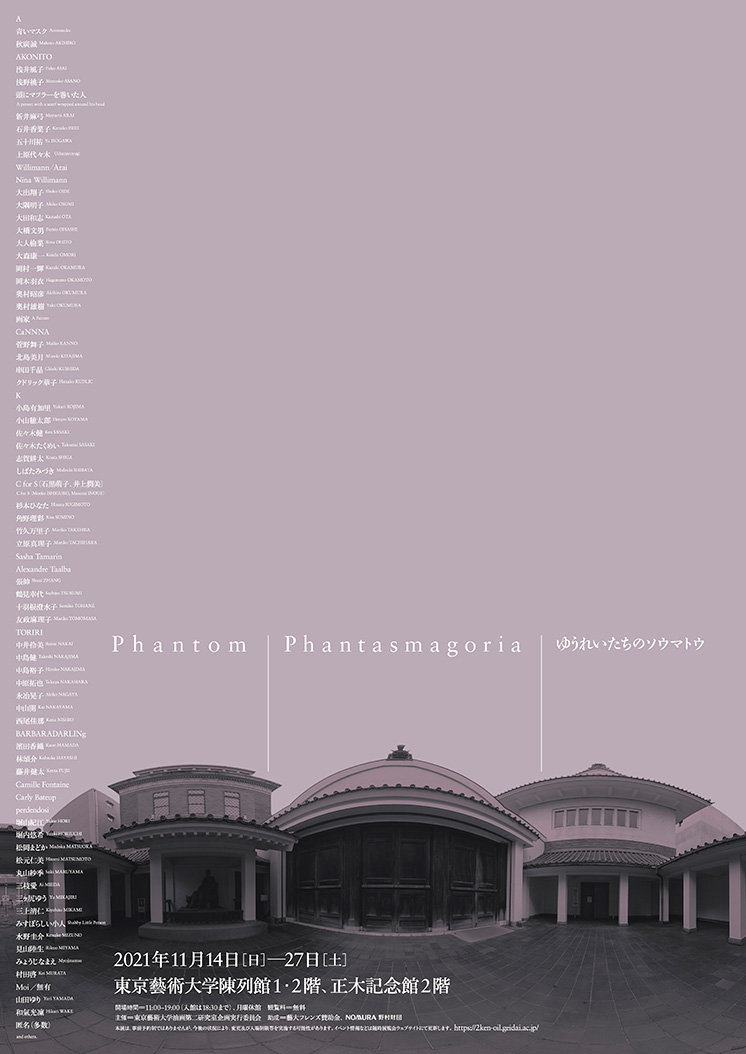 Dates:
Nov 14 (Sun) - Nov 27 (Sat), 2021
Closed:
Mondays
Hours:
10:00 - 19:00 (Entry by 18:30)
* Currently, pre-registration is not required to visit this exhibition. However, this policy is subject to change, depending on the state of the pandemic, and new measures may be put in place, such as limiting the number of visitors in the museum.
Place:
Chinretsukan Gallery 1F, 2F, Masaki Memorial Gallery 2F (The University Art Museum, Tokyo University of the Arts)
Admission:
free
Organized by Tokyo University of the Arts Oil Painting Laboratory 2 Organising Committee
Supported by Geidai Friends; Nomura Foundation
This exhibition, entitled "Yurei-tachi no Soumatou (lit. meaning "Phantasmagoria for Ghosts")" brings together current and former students of Oil Painting Laboratory 2 (run by Professor Hotaro Koyama ), Tokyo University of the Arts.
For the past twenty years, Laboratory 2 has pursued projects and research in various fields which are not limited to "oil painting". "Oil Painting Laboratory 2 values the principle of creating with a sensitivity towards the outside world through fieldwork. What is it that we see in the creation of pictures, videos, and images? This laboratory serves as a time and place for experimentation, discoveries and new experiences not unlike a "journey"." (Koyama).
In 2020, the coronavirus pandemic brought about major changes in society, and we as artists were also greatly affected. As we become aware that the society we see is no longer the norm, we are finding new possibilities of expression and values that respond to this "place".
"Phantasmagoria", which is part of the title, is defined as "a spectacle that can be transformed / a sequence of real or imaginary images in a dream (not unlike a kaleidoscope)". We aim to present our work as a place where our expression -- an insatiable challenge to the present -- can become an ever-changing spectacle; shared with visitors so that they may find new imagination even in the midst of an uncertain future.
During the exhibition, there will be a rearrangement of works, projects using the Internet, and an anthology project titled "Endless Episodes" instigated by Professor Hotaro Koyama.
Preventative measures against infection have been taken with hope that the exhibition will be experienced by a wide audience. We cordially invite you to come and visit.
Inquiry:
NTT Hello Dial: 050-5541-8600