DatesMar 25 (Fri), 2022 - Apr 10 (Sun), 2022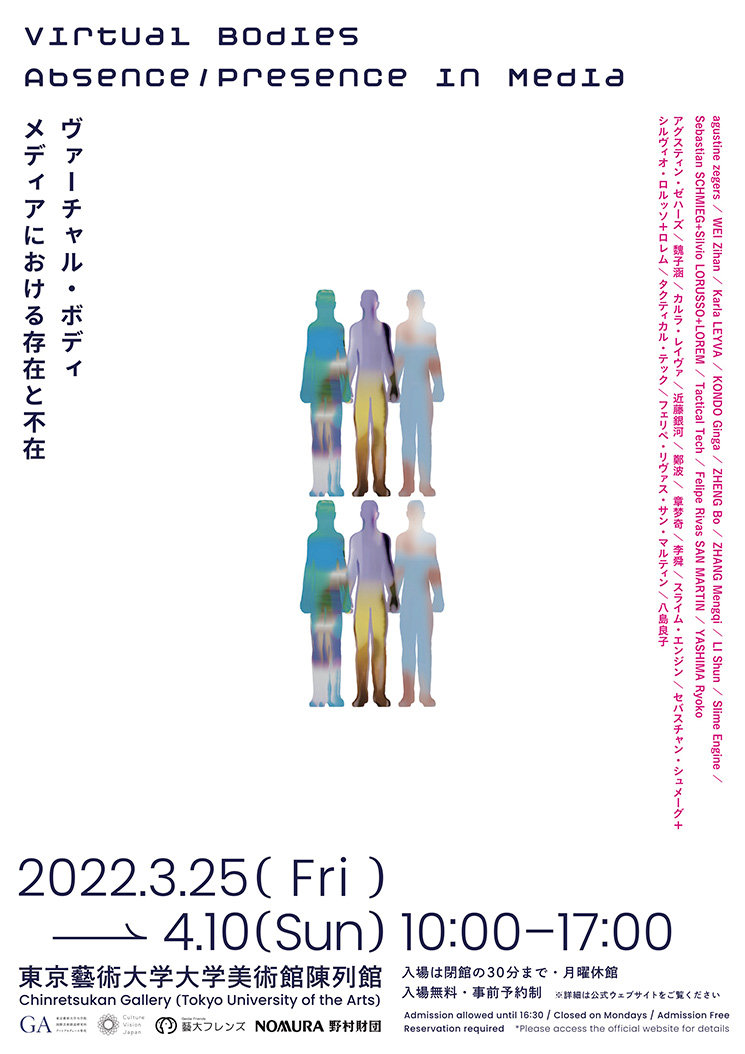 All visitors must make a reservation before visiting this exhibition.
Entry Reservations → https://virtualbodies.peatix.com/
Dates:
Mar 25 (Fri) - Apr 10 (Sun), 2022
Closed on Mondays
Hours:
10:00 - 17:00 (Entry by 16:30)
Place:
Chinretsukan Gallery 1F, 2F (The University Art Museum, Tokyo University of the Arts)
Admission:
free
Organized by Graduate School of Global Arts, Tokyo University of the Arts
Co-organized by Culture Vision Japan Foundation Inc.
Supported by Geidai Friends, Nomura Foundation
Supervised by Professor Yuko Hasegawa [Department of Art Studies and Curatorial Practices, Graduate School of Global Arts, Tokyo University of the Arts / Director of Kanazawa 21st Century Museum]
Artists: Agustine Zegers, Felipe Rivas San Martín, Karla Leyva, Ginga Kondo, Li Shun, Sebastian Schmieg, Silvio Lorusso, Slime Engine, Tactical Tech, Yashima Ryoko
Co-curated by aliwen; Hanna Hirakawa; Xiyue Yan; Lin Zhang; Linxi Zou; Yuheng Wu; Hyesu Cho; Sun Kim
(Tokyo University of the Arts Graduate School of Global Arts, Department of Arts Studies and Curatorial Practices, Master's course students registered in Professor Yuko Hasegawa's class: Art Produce Seminar I)
Special support by Tomoya Shimomuki; Jingwen Li
Graphic Design: Shao Qi
In Virtual Bodies: Absence/Presence in Media, 14 artists based in Japan, Chile, China, Germany, Mexico, and the United States reflect on the post pandemic world through the idea of virtuality. As a direct result of COVID-19, we are experiencing profound changes in our relationships to the world and our notion of self. The contemporary media landscape, which has been plagued by the polarization of social media and weaponization of fake news, has become an indispensable part of our lives, as we increasingly depend on communications and media for work, education and even contact amongst people. This is closely connected to how we perceive our own bodies, which are intersected by issues of able-bodiedness, age, class, gender, race, and spirituality, bringing questions of essences and identities to the forefront. At the same time, the diverse possibilities of the body today lead us to imagine a future in coexisting with other bodies: undoing the human form in its relation to animals, plants, technology, and digital ghosts.
Inquiry:
NTT Hello Dial: 050-5541-8600
Exhibition official website: