DatesMay 28 (Sat), 2022 - Jun 26 (Sun), 2022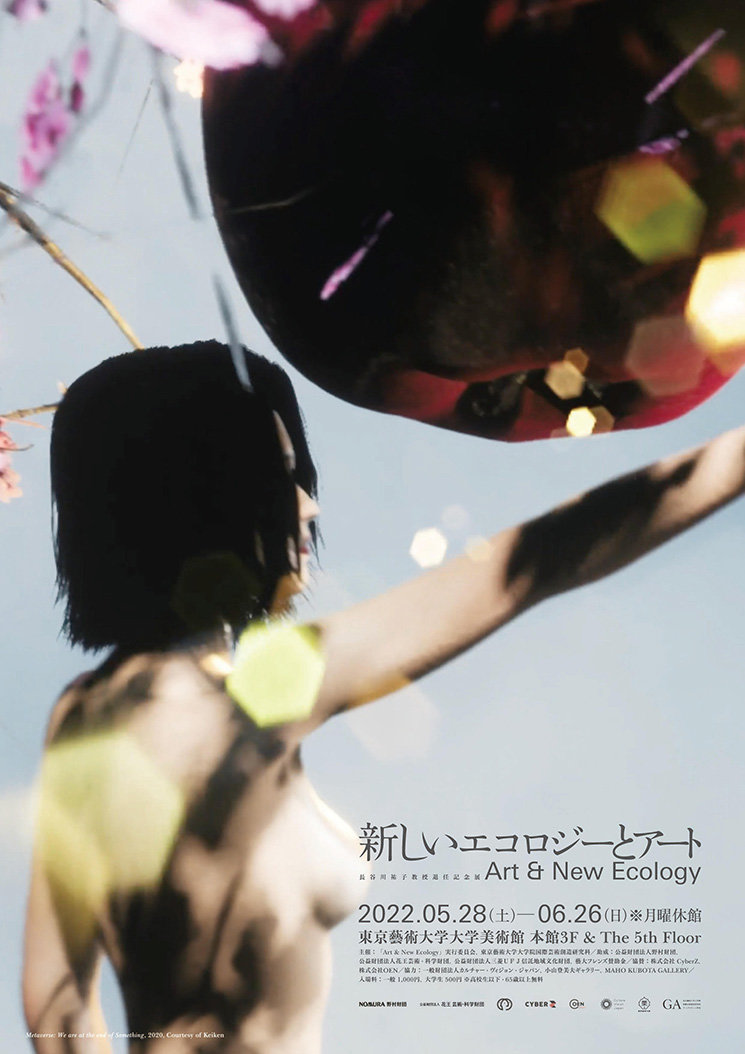 Dates:
May 28(Sat) - Jun 26 (Sun), 2022
Closed on Mondays
* When crowded, admission to the exhibitions may be limited, and visitors may be asked to wait for a while before entering as countermeasures against covid-19 contagion. Please check the latest information on the official website.
Hours:
Main Gallery 10:00 - 17:00 (Entry by 16:30)
The 5th Floor 11:00 - 18:00 (Entry by 17:30)
Place:
Main Gallery 3, 4 (The University Art Museum, Tokyo University of the Arts)
The 5th Floor (Hanazono Alley 5F, 3-3-9 Ikenohata, Taito-ku, Tokyo,110-0008)
Admission:
Adult - 1000 yen
College student - 500 yen

*Senior high school student or younger and over 65 - Free
*Free admission for disabled people (one accompanying guest for each disabled person is admitted free)
Organized by "Art & New Ecology" Executive Committee; Graduate School of Global Arts, Tokyo University of the Arts
Co-organized by The 5th Floor
Supported by Nomura Foundation; Kao Art Foundation; The Mitsubishi UFJ Trust Cultural Foundation; Geidai Friends
Sponsored by CyberZ, Inc.; OEN,Inc.; Culture Vision Japan Foundation Inc.
In cooperation with Tomio Koyama Gallery; MAHO KUBOTA GALLERY; Kyoshin Printing Co., Ltd.
This exhibition, revolving around the theme of "new ecology and art," aims to shed light on ecological art practices from efforts by both artists and researchers of the current age.
In the "Anthropocene," a time when human activities have greatly impacted nature and changed the global environment, anthropocentrism and excessive capitalism have put not only the natural environment but also our social and spiritual environments at risk of becoming unsustainable. Under such circumstances, artists are taking on the role of mediators and translators who investigate, observe, and communicate the "new ecology" that comprehensively perceives these environments to the public through a new aesthetic.
Art, through sensory learning, influences the way we live and think by presenting a micro-perspective that works on the viewer's body, consciousness, and sensitivity, and a macro-perspective that visualizes the reality surrounding our world based on data and informational evidence. Art from now on will connect our divided world with empathy and explore how we can imagine a de-anthropocentric, pluralistic humanity that includes animals, plants, objects, etc. This exhibition shall equip us with various indicators and hints as we search for new ways of thinking and living, like a compass leading our way, in the post-COVID era.
Inquiry:
NTT Hello Dial: 050-5541-8600
Exhibition official website: